Increasingly Australians are 'shopping around' and discarding old loyalties to either Coles or Woollies with more of us occasionally purchasing our groceries from other, smaller supermarket chains such as Aldi or a local Foodworks.
It's a similar story with Australian voters when it comes to putting down their first preference at election time.
Rather than being rusted on to either the Blue, Red or Green team, at the last federal election in 2016 almost one in four voters gave their first preference to either a minor party or an independent candidate. The trend continued with recent State government elections in Tasmania, Victoria and NSW where record numbers of independents and candidates from minor parties were elected to parliament.
It's Independents' Day
The electoral success of high-profile federal independents such as Cathy McGowan, Kerryn Phelps and Andrew Wilke has led to a national rise in the number of independent candidates hoping to emulate their success by running for the upcoming May 18th federal election. It appears that almost every seat in the country has a keen independent putting their 'vote for me' hand up this time around.
However, more often than not, independent candidates lose elections. It can be tough starting from scratch as an unaligned candidate, without the massive support, experience and funding that comes with the endorsement of a major party. Mistakes are often made; funds are tight, volunteers can be difficult to find let alone sustain.
Occasionally a campaign is so brilliantly executed that an independent candidate is successfully elected. This was the case for the celebrated 'Independent for Indi' campaigns of 2013 and 2016 that saw an army of supporters assist Cathy McGowan to get elected as the first female independent member in the federal house of representatives.
As Cathy's sister, I volunteered on her team to assist to coordinate those two campaigns, and joined a vibrant, skilled team of hundreds of orange-t-shirt-wearing volunteers. As a past Councillor and Mayor with a couple of local council campaigns under my belt, I knew first-hand what it takes to get elected.
The ultimate guide for candidates
To date, there has been a lack of easily available information on how to campaign for the three levels of government across Australia. Information is hard to find and although there are play-books written for candidates in the major parties, this is often tightly guarded as 'secret political-party business'. So, I decided to write Get Elected, the first national book on 'how to campaign' which presents a step by step guide to winning public office at a local, state or federal level.
Get Elected draws on research and successful case studies such as the Indi campaign and other state, local and federal campaigns. The practical tips come from my own experiences as a trainer of workshops and courses on 'how to run your campaign' as well as my work as a Candidate-Coach.
Cathy McGowan launched the guide on April 4th in Parliament House, Canberra with the call to action 'Don't get mad – get elected!'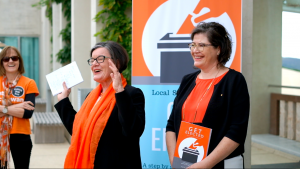 "To the many people who feel disillusioned and disappointed about the state of politics and find it hard to imagine a way forward, this guide is for you. In Get Elected, Ruth unpacks a step-by-step 'recipe book' of what it takes to plan, run and win a successful campaign for candidates and for the people who will help them succeed" Cathy McGowan MP
And, in Melbourne this week, Ali Cupper the independent Victorian state MP for Mildura kicked off the state launch of the guide saying
"there is an art and science to politics and getting elected. Get Elected explains the science. I wish I had had this guide at my fingertips when I ran my first campaign almost a decade ago. It would have saved a lot of nail-biting guesswork and costly mistakes." Ali Cupper MP
A book for #ItsTime
I was inspired to write Get Elected both at the urging of my sister Cathy as a way of capturing and sharing the Indi campaign experiences and to encourage more women to run for office. In 2017 I was privileged to be selected to attend the Melbourne University Pathways to Politics program which aims to equip women to run for office. Now, as an alumni, I know a handbook like Get Elected will assist women candidates with practical tips and advice.
Although our parliaments and councils across the land are predominately composed of 'older white men' there is a push for greater diversity in our political representation with voters desiring politicians that 'look and talk like us'. Currently, I know there are many competent, independently minded women who are progressive in their thinking and prepared to lead the change they wish to see in their community by standing as candidates for office.
"Ultimately I hope this guides can inspire diverse candidates and prompt more women to step forward, run for office and get elected" Ruth McGowan
Get Elected is divided into four parts which take the reader through the decision-making, planning and running stages of a campaign and ends with a consideration of 'what next?' The useful advice, tips and checklists provide a practical and easy-to-read guide which makes Get Elected accessible for anyone considering public office. For large or small scale campaigns, the principles are similar, and the guide provides advice on how to scale up or down a campaign depending on the size of the office the candidate is attempting to win.
Prior to the publication of Get Elected, candidates wanting to know how to run a winning campaign would have to rely on international guides from the U.S or U.K – or, if they were lucky – advice from an experienced campaigner who had 'been there done that' with a major party. Now, with this guide, information on how to Get Elected is readily accessible by ordinary citizens who wish to do something extraordinary and run for office.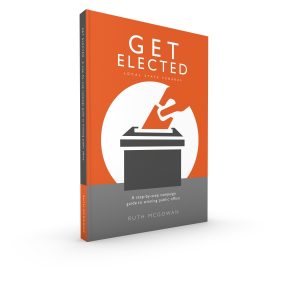 For potential candidates thinking of running for office, Get Elected will help to confirm your plans and help you give your run for office your best shot. Copies are available directly from my website: www.ruthmcgowan.com/book
Ruth McGowan loves to talk about politics, democracy and improving the diversity of political representation in Australia at all levels of government which means more #WomeninPolitics. For more information see https://ruthmcgowan.com/