The First edition of Get Elected has SOLD OUT. Thanks for your support!
Now, following the May Federal election, Get Elected will be updated and revised with new case studies and information. This second edition will be available in October 2019.
Pre-order your copy to the right.
ABOUT Get Elected:
Disillusioned with politics? Be the change you wish to see. Run for office and Get Elected!
When it comes to turning dissatisfaction into action, politics is the art of making what appears to be impossible, possible. There are more than 7,400 opportunities across Australia to stand for office.
For those that wish to stand for office at a local, state or federal level Get Elected is proving to be the ultimate guide.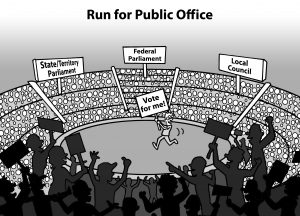 Get Elected: A step-by-step campaign guide to running for public office explains to aspiring candidates how to plan and run a successful campaign for office at the local, state or federal level.
The first edition of Get Elected was launched in April 2019 to much interest and positive reviews across Australia. The first edition of the book sold out within six weeks during the 2019 Federal election campaign.
Get Elected is currently being updated and revised and will be available in October 2019 with new insights from the Federal Election Campaign of May 2019.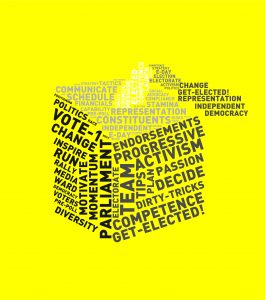 What readers have said about Ruth's book
Tim Fischer AC and former Federal MP, Leader of the National Party and Deputy Prime Minister of Australia
Two bad keystrokes and your campaign can be wiped out. This is why Get Elected is a must-read for anyone contemplating running for political office and wanting to avoid the potential pitfalls that can turn your campaign into a disaster. Ruth packs this guide with practical tips and insights gained from her coordination role of the two successful 'Indi Orange' campaigns for her sister Cathy McGowan in 2013 and 2016. I also recommend this guide to campaign managers who want to maximise the effectiveness of volunteers and not waste precious time.
Ali Cupper, Independent MP Mildura, Victorian State Parliamentarian and former Councillor Mildura City Council
Get Elected is a comprehensive guide to everything potential candidates need to know about running an election campaign at local, state or federal level. Written by Ruth McGowan, a long-time advocate for greater representation of women in politics, Get Elected is the campaign bible for movers and shakers new to the scene, who want to know the important stuff up front, the easy way. I wish I'd had this guide at my fingertips when I ran my first campaign almost a decade ago. It would have saved a lot of nail-biting guesswork and costly mistakes.
Geoff Ablett, Councillor and three times Mayor of the City of Casey, a dual Premiership player with Hawthorn and also played for Richmond and St Kilda
Anyone who is thinking about running for office will be encouraged to give it a go after reading Get Elected. It doesn't matter if you are interested in Local Council or State and Federal Parliament, this guide will build your confidence to consider politics and equip you with the tools you need to run a masterful campaign.
Coral Ross, Councillor, former Mayor City of Boroondara, National President Aust. Local Government Women's Asst, deputy Chair  Aust. Gender Equality Council, a Director of National Rural Women's Coalition. 
Unfortunately, Australia is a long way off gender equality in our local councils and state and federal parliaments. For effective representation, we need more women to contemplate politics and get elected to our chambers and parliaments. Ruth has been a strong advocate for women in local government for many years, working on projects to support women to get elected to their local council. She has written an engaging read in Get Elected with lots of tips and practical insights. My hope is that this guide will encourage more women to consider running for office.
Jacqui Hawkins, Independent candidate for Benambra 2018 Victorian State Election
This guide sets out the ABC of a game plan that a candidate needs to apply to their campaign to work towards getting elected. With its guidance, practical tips and considerations of campaigning, I highly recommend this guide to anyone considering running for office.
Rob Harris – federal politics reporter with the Herald Sun
Seemingly more people are looking at their local MP and thinking "I can do a better job than him (or her)" but aren't sure what to do next. If you are disillusioned with politics and care about democracy and representation, then perhaps it's time to consider running for office?  Get Elected is full of tips and advice that guides a prospective candidate on how to run a winning campaign while avoiding the surprises that could ruin everything.
This is the first national guide to help would-be politicians run a successful campaign for local council, state or federal parliament. It's a must-read for anyone who has ever thought of giving politics a crack.
Judy Ryan, Independent candidate 2016 Victorian Local Government election, Reason Party candidate 2018 Victorian State Election
Get Elected will help you do exactly that if you are considering running as an independent or a small-party candidate. From setting up your campaign team and the comprehensive checklists to practical tips on contemporary campaigning and inspirational stories from other people just like yourself, Get Elected makes the seemingly impossible a real possibility.
Penny Terry, Community Storytelling Expert, Creative Director, Healthy Tasmania, former ABC journalist
In my ten years as a radio broadcaster with the ABC, I regularly interviewed candidates running for Local Council or State Parliament and federal politics. Some people would be great communicators, able to connect with my audience quickly and successfully give them a reason to care about who they are, what they know and what they stand for—others, less so. Get Elected is essential reading for anyone who wishes to know what it takes to be broadcast ready. It provides practical tools to communicate your campaign message to journalists and ultimately voters. A must-read for candidates and their teams.