To be an effective CEO, community leader or project manager, it is not enough to be smart, strategic or empathetic. Modern leaders must also be politically astute, with a truckload of 'political nous'.
Calling for Political Astute leaders
In the past year, I have noticed a change in the language of the position descriptions for local-government CEO vacancies. Increasingly, the Key Selection Criteria for these plum roles are seeking leaders who can demonstrate they are 'politically astute'. This is a 'must have' skill for leaders of large, public sector organisations who also have to deal with elected representatives.
In a local council, aspiring managers need to demonstrate that they have:
The 'project skills' to deliver on strategic council plans.
The 'people skills' to engage with a wide range of diverse stakeholders and successfully collaborate on project delivery
The empathy to inspire hundreds of skilled staff to commit to a service-orientated culture.
The modern CEO also needs to add:
the 'political skills' that ensure productive relationships with elected representatives and the ability to create a positive people and culture environment for managing workplace politics.
It can be hard to define 'politically savvy' but you certainly can tell when someone doesn't have it!
What is 'political savvy'?
I suggest people seek to answer this question by thinking of a leader(s) they admire and reflecting on the importance of political skills to this leader's success.
Conversely; think of those leaders who despite great promise, ultimately failed in the role. It was most likely because they didn't 'get the politics' and lacked 'political nous'.
It is tough to deliver transformative change, operational excellence, stakeholder engagement, a thriving culture … and all the other outcomes expected of a senior manager or community leader without a high level of political intelligence.
That's why all successful leaders have the smarts, the strategy and the savvy.
How politically savvy you are is measured by your Political Quotient, that is, your level of political intelligence.
If you were to unpack the components of a Political Astute leader into its parts, it looks like this:
IQ (Intelligence Quotient) + EQ (Emotional Quotient) + PQ (Political Quotient) = Astute
Lift your PQ
If you wish to 'get good stuff done' – whether in your workplace or community – you need to take an interest in the politics going on around you. Because if you don't; politics will take an interest in you and this may not be to your benefit.
That's why I don't call politics a 'game' because this is deadly serious. Your level of political intelligence – and therefore how politically astute you are – can make or break your career.
As a consultant working in the local government sector and someone who is fascinated by the 'raw politics' of public office, I am keen to learn more about what it takes to help people master the politics. This year, I travelled to London to undertake accredited training with the UK-based Academy for Political Intelligence who are world leaders in delivering training in organisational politics.
The Academy has developed a range of tools and processes to help people in organisations to manage the political landscape more effectively. This includes a diagnostic tool which allows people to identify the type of 'political animal' they are and workshops on how to build the skills to become more politically intelligent to manage the politics in their organisation.
I am now an accredited trainer with the Academy to deliver this training throughout the Asia-Pacific region for corporations keen to understand how to boost their skills in organisational politics and become more politically savvy. This is particularly important for new and aspiring managers and team leaders. By learning the skills of politically savvy at the start of their leadership journey, people can fast track the years that it may take to learn about politics the hard way.
If you want to know more about the Political Savvy training program for new managers and aspiring leaders, please get in touch, and I will forward you information about the workshop program that can be delivered in your workplace.
Ruth McGowan OAM is an accredited trainer in Political Intelligence and runs training on how to Boost your Political Savvy for new and aspiring leaders.
Did you see the recent report from the Harvard Business Review that found women leaders scored higher than men on the majority of critical leadership competencies? In fact, women were found to be more effective in 84% of the competencies measured.
"Women were rated as excelling in taking initiative, acting with resilience, practising self-development, driving for results, and displaying high integrity and honesty. Women Score Higher Than Men in Most Leadership Skills – HBR 25/6/19
This same research also reported a massive confidence gap between younger women and their male counterparts, especially for women under 25 years of age. Thankfully this confidence-gap virtually disappears by the time women reach their 40s. However, in the meantime, organisations risk not hearing the voices of younger, competent female talent who may be struggling to build their confidence in the first decade of their career.
If you are interested in advancing gender equality, like I am, the important question to ask is 'what can we do to build the confidence of younger women to speak up and contribute'?
Rather than blaming women for their self-doubt, it is possible to design organisational changes to make the system more inclusive.
A practical example of changes to make in the workplace is to purposefully design meetings to be more inviting of contributions from everyone; including female staff, new employees and team members from different cultural backgrounds or diverse communities. Inclusive meetings aim to ensure everyone can have their voice heard and feel that their contribution is valued.
We interrupt … to talk about interrupting
Constant interruptions in meetings are not unusual, yet they can subtly contribute to gender disparity in many organisations as well as public discourse.
Interruptions can be disruptive or co-operative. Co-operative interruptions may be affirmative with the intention to build rapport or support a speaker. For example, when you hear someone saying "Yep, good point – totally agree" or "Uh-huh, we found the same problem". They also include interruptions to clarify a point such as "Excuse me – could you please explain that acronym?" or "Can you elaborate on Scenario A?"
In contrast, disruptive interruptions may be a deliberate attempt by the listener to assert dominance in a conversation by controlling the floor. For example; "OK, we've had enough discussion on that topic, let's move on" or "But we tried that last time, and it didn't work".
Some social researchers believe there is a gender aspect to interruptions. Dr Pragya Agarwal, a behavioural scientist and mental health campaigner, has written about the tendency for men to interrupt more than women. She quotes a US study that found men interrupted 33% more often when they spoke with women than when they spoke with other men. The research also found that over a short conversation (3-minutes), men interrupted women 2.1 times but only interrupted other men 1.8 times. (By contrast, the women on average interrupted men only once). She cites other research that found "men were more likely to interrupt women with the intent to assert dominance in the conversation, meaning men were interrupting to take over the conversation floor".
Diverse teams make better decisions, minimising the risk of 'group think'. However, constant disruptive interruptions in meetings can 'shut down' the voices of less confident team members from diverse backgrounds. The result is many organisations are missing out on the best possible outcomes of team decision making. Could this be your workplace?
Listen in
Conversational interruptions happen more often than you think. If you are interested to see if this is an issue in your workplace, I invite you to try an experiment. Pretend you are an 'undercover behavioural scientist' who has been assigned the task to observe and listen to interruptions at your next team meeting. In particular, note any differences between the genders.
Stay curious, actively listening to any differences between the participants around the table or in the room. Note the gender mix in the team and the proportion of those members who represent a minority background. As the meeting progresses, listen to who has 'the stage'. Who is doing the most talking and for how long are they speaking? Who gets to ask the follow-up questions and who receives the affirmations for their contributions? Finally, note who is doing the interruptions (use the Women Interrupted App). Are the interruptions of a co-operative nature with the result of supporting a conversation or are they disruptive and asked to dominate or take control of the conversation?
You may be surprised by what you observe in your meetings, particularly if there are differences between the genders. Research shows it's most likely to be the male team members doing most of the talking AND the interrupting, while women contribute less frequently (or worse, shut down). If this reflects your experiences, then your organisation is likely to be missing out on the voices and contributions of competent women.
Do your team meetings have the effect of opening up conversations – or shutting them down?  We can all take practical steps to advance gender equality and design more inclusive team meetings."
10 steps to designing inclusive meetings
With commitment, it is relatively simple to step up and take action to include diverse voices in your team meetings. Consider creating your meetings to be more inclusive with these ten suggestions:
Start the meeting with a discussion around 'no-interrupting' and encourage questions to be asked at the close of a presentation. Naming the problem and potential implications for good decision making will raise awareness.
Encourage women to share the 'power seat' at a meeting; often at the front and near the boss/team leader.
If people are prone to long, rambling questions, consider setting a time limit for questions (90-second rule, 60-second follow up).
If the interruptions continue, call it out – ("Hey let her finish please")
If the voices of women and others from diverse backgrounds are absent, invite them to contribute to the conversation ("I'd like to hear from Jenna")
Give credit where credit is due for a good idea. Call it out if someone repeats another person's idea or tries to claim it as their own. ("Yeah that's what Fatima said 20 minutes ago!")
Avoid casual stereotypes (such as assuming women will manage the catering, or the men the IT problems).
If someone has a soft voice, use a microphone. Make it easy for people to be heard, literally.
Invite women to contribute, acknowledge their input and provide positive feedback when they do so (without being patronising). ("Thanks Kelsey and we appreciate your insight given your experience in ….")
If your team is relatively small, but some members tend to dominate the conversation, try ways to seek everyone's contribution. ("OK, now we are going to go around the table and hear feedback from everyone").
Try these steps at your next team meeting and see if you start to notice a difference in the range of voices contributing to the conversation. I invite you to connect with me on LinkedIn and tell me how your experiment works out.
Ruth McGowan OAM is a gender equity advocate and champion for women in local government and politics through her work as a consultant and coach. In 2019 she wrote Get Elected to assist candidates from diverse backgrounds to stand for office.
Increasingly Australians are 'shopping around' and discarding old loyalties to either Coles or Woollies with more of us occasionally purchasing our groceries from other, smaller supermarket chains such as Aldi or a local Foodworks.
It's a similar story with Australian voters when it comes to putting down their first preference at election time.
Rather than being rusted on to either the Blue, Red or Green team, at the last federal election in 2016 almost one in four voters gave their first preference to either a minor party or an independent candidate. The trend continued with recent State government elections in Tasmania, Victoria and NSW where record numbers of independents and candidates from minor parties were elected to parliament.
It's Independents' Day
The electoral success of high-profile federal independents such as Cathy McGowan, Kerryn Phelps and Andrew Wilke has led to a national rise in the number of independent candidates hoping to emulate their success by running for the upcoming May 18th federal election. It appears that almost every seat in the country has a keen independent putting their 'vote for me' hand up this time around.
However, more often than not, independent candidates lose elections. It can be tough starting from scratch as an unaligned candidate, without the massive support, experience and funding that comes with the endorsement of a major party. Mistakes are often made; funds are tight, volunteers can be difficult to find let alone sustain.
Occasionally a campaign is so brilliantly executed that an independent candidate is successfully elected. This was the case for the celebrated 'Independent for Indi' campaigns of 2013 and 2016 that saw an army of supporters assist Cathy McGowan to get elected as the first female independent member in the federal house of representatives.
As Cathy's sister, I volunteered on her team to assist to coordinate those two campaigns, and joined a vibrant, skilled team of hundreds of orange-t-shirt-wearing volunteers. As a past Councillor and Mayor with a couple of local council campaigns under my belt, I knew first-hand what it takes to get elected.
The ultimate guide for candidates
To date, there has been a lack of easily available information on how to campaign for the three levels of government across Australia. Information is hard to find and although there are play-books written for candidates in the major parties, this is often tightly guarded as 'secret political-party business'. So, I decided to write Get Elected, the first national book on 'how to campaign' which presents a step by step guide to winning public office at a local, state or federal level.
Get Elected draws on research and successful case studies such as the Indi campaign and other state, local and federal campaigns. The practical tips come from my own experiences as a trainer of workshops and courses on 'how to run your campaign' as well as my work as a Candidate-Coach.
Cathy McGowan launched the guide on April 4th in Parliament House, Canberra with the call to action 'Don't get mad – get elected!'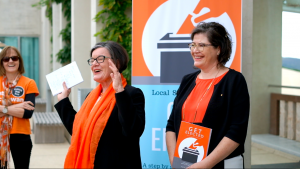 "To the many people who feel disillusioned and disappointed about the state of politics and find it hard to imagine a way forward, this guide is for you. In Get Elected, Ruth unpacks a step-by-step 'recipe book' of what it takes to plan, run and win a successful campaign for candidates and for the people who will help them succeed" Cathy McGowan MP
And, in Melbourne this week, Ali Cupper the independent Victorian state MP for Mildura kicked off the state launch of the guide saying
"there is an art and science to politics and getting elected. Get Elected explains the science. I wish I had had this guide at my fingertips when I ran my first campaign almost a decade ago. It would have saved a lot of nail-biting guesswork and costly mistakes." Ali Cupper MP
A book for #ItsTime
I was inspired to write Get Elected both at the urging of my sister Cathy as a way of capturing and sharing the Indi campaign experiences and to encourage more women to run for office. In 2017 I was privileged to be selected to attend the Melbourne University Pathways to Politics program which aims to equip women to run for office. Now, as an alumni, I know a handbook like Get Elected will assist women candidates with practical tips and advice.
Although our parliaments and councils across the land are predominately composed of 'older white men' there is a push for greater diversity in our political representation with voters desiring politicians that 'look and talk like us'. Currently, I know there are many competent, independently minded women who are progressive in their thinking and prepared to lead the change they wish to see in their community by standing as candidates for office.
"Ultimately I hope this guides can inspire diverse candidates and prompt more women to step forward, run for office and get elected" Ruth McGowan
Get Elected is divided into four parts which take the reader through the decision-making, planning and running stages of a campaign and ends with a consideration of 'what next?' The useful advice, tips and checklists provide a practical and easy-to-read guide which makes Get Elected accessible for anyone considering public office. For large or small scale campaigns, the principles are similar, and the guide provides advice on how to scale up or down a campaign depending on the size of the office the candidate is attempting to win.
Prior to the publication of Get Elected, candidates wanting to know how to run a winning campaign would have to rely on international guides from the U.S or U.K – or, if they were lucky – advice from an experienced campaigner who had 'been there done that' with a major party. Now, with this guide, information on how to Get Elected is readily accessible by ordinary citizens who wish to do something extraordinary and run for office.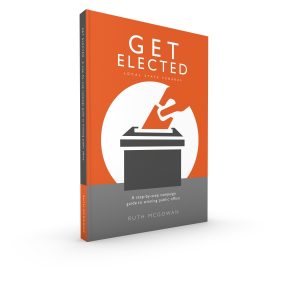 For potential candidates thinking of running for office, Get Elected will help to confirm your plans and help you give your run for office your best shot. Copies are available directly from my website: www.ruthmcgowan.com/book
Ruth McGowan loves to talk about politics, democracy and improving the diversity of political representation in Australia at all levels of government which means more #WomeninPolitics. For more information see https://ruthmcgowan.com/
"I'd hate to think you're using the Department as light entertainment."
This sneering comment came from my manager as he knocked back my request for an additional four months leave-without-pay. I'd been back at work for a few months following the birth of my first child but due to personal circumstances, I needed some more time away from the office.
This incident was two decades ago when I worked for a government department as a young research scientist. Now, in 2018 when it comes to flexible working arrangements, I'd like to think things have changed somewhat since the 1990s.
That particular manager held the view that women working part-time in the workplace were a drain on resources and that I 'obviously' wasn't committed to my scientific career if I wanted to access flexible work arrangements. He failed to understand that workplace flexibility actually delivers benefits all round; not just for employees but also the employer.
Bring on the Benefits
Earlier this year, a government report on Flexible work, good for business? quantified the significant benefits of flexible work strategies. The Nous Group was engaged by the Victorian Government to quantify the costs and benefits of more flexible work strategies. They reported that organisations can experience a net benefit of as much as 4% of their revenue as a result of flexible work conditions.
These benefits came from improvements in labour productivity, recruitment, retention and reduced absenteeism. The report noted that these benefits are significant and in some organisations:
can amount to tens of millions of dollars each year. Replicated across the entire economy, the net benefit could be in the billions. (Nous Group)
Equality enabler
You only have to look around your own office or ask a sample of your friends about conditions at their workplace to know that flexible work practices are a popular and valued part of many people's employment conditions.
Strategies such as varied start and finish times, or flexible leave arrangements (like 48/52) can support employees with carer responsibilities as a result of children or elderly parents. It's a vital way to help carers manage all the tasks they need to get done each day such as meeting medical appointments that inevitably fall within work hours.
Part-time work or time-in-lieu can help volunteers manage the juggle of paid work with their other responsibilities. Think of the parent-coach who is able to leave the office at 3 pm to help with after-school sports.
Working from home or job-sharing can also assist people recovering from ill health to transition back to employment or help senior staff adjust their hours as they move towards retirement.
Flexible work strategies not only make good economic sense, they advance equality in the workplace for everyone.
Talk or walk?
The positive news is that in 2018 more workplaces are implementing flexible working strategies. The latest national data found 70.7% of organisations reporting to the Workplace Gender Equality Agency (WGEA) have a formal flexibility policy and/or strategy in place.
The not-so-good news is that there is still a need for considerable progress in terms of genuine action to deliver workplace flexibility for all employees. Unfortunately many employers still just view the issue as 'allowing part-time hours for mums'. This reinforces gender stereotypes and according to WGEA, results in men feeling judged when they seek to consider more flexibility in their working hours and then disengaging from the opportunities on offer.
If you have a flexible work strategy in place, it may be interesting for you to consider does your organisation's action reflect their talk? WGEA reports that only about 1-in-4 organisations with flexible work strategies actually provide training for managers on flexible work and just 1-in-20 set targets for employee engagement in flexible work.
This 'action gap' is impeding progress and it's probably costing your business money. (To find out how much check out the FlexiWork Calculator). The WGEA Manager Flexibility toolkit explains how to turn the talk into action.
Entertained AND committed
In the end, there was a happy outcome to my request for flexible leave.
As a new mother requesting a few extra months leave without pay, I eventually received approval following my appeal to the HR manager. Like many employees satisfied with flexible work conditions, I went onto to work for that organization as an engaged, committed (and entertained!) employee for another 15 years.
That sneering manager has long since retired, but the Department where I once worked (now called DEWLP) this year reported an annual saving of $31 million dollars as a result of their workplace flexibility programs. Thankfully many Department heads now value workplace flexibility because it's not only the right thing to do for equality, but it also make good business sense.
Ruth McGowan OAM is a gender equity advocate and champion for equality in local government through her work as a consultant and coach. www.ruthmcgowan.com
Australians. We like to think we're a nation of decent people, ready to give someone a fair go as long as they are prepared to 'have a crack'. We also like to think we have good 'bullshit radars' meaning we are not afraid to call it out when someone is not being 'fair dinkum'.
I'm having a go. It's time to call out the term 'merit' as bullshit.
I'm fired up after attending the Equal Future forum this week, run by the Municipal Association of Victoria. Coincidentally, the same day the Workplace Gender Equality Agency (WGEA) reported that the gender pay gap for women continues to sit at 79% of men's salary.
Speaking at the MAV Forum, Catherine Fox, Walkley-Award winning author of Stop Fixing Women spoke about the way 'Merit' is a term that unleashes our cognitive biases such as unconscious bias and affinity bias.
The Myth of Merit
This is what's wrong with the notion of 'Merit'. It might sound like an objective filter for sifting out those who deserve a promotion, reward, accolades. But, as Fox argues, it's time we scrutinised the term and better understood how it is an insidious barrier to gender equality.
According to Fox, merit an elusive, subjective term that is really just 'smoke and mirrors. The danger of this concept she says is that
merit is a self-reinforcing concept for those in charge (Fox)
When this happens, like-employs-like. The 'mini-me' in corporate Australia results in scenarios such as men apparently being 'nine times more meritorious than females as CEOs in the ASX 200'. In other professions, such as Law, women make up to two-thirds of graduates yet fill only one-in-10 senior counsel and Queen's counsel positions according to the Law Council of Australia.
We often hear that 'he got it on merit' whether it's a job or an award. Fox says the perpetuation of this term is handy as 'it doesn't rock the boat … and perpetuates inertia'. In short, the term is an excuse used not to take action to address inequality.
If you still think the predominance of men in most spheres of leadership, corporate Australia, politics and holders of Australian Honours is as a result of merit, then what you are actually saying is that men are inherently more capable, deserving, skilled and talented than women in those same professions and industries. Really?
Personally, I don't think so. Taking a small step to address inequality, last year I co-founded a movement Honour A Woman to address inequality in the Australian Honours where men consistently receive 70% of the awards. After 43 years on inequality in this area, we are finally making some progress.
The Gender Equality Paradox
Turns out that in addition to the Myth of Merit, there is also the Gender Equality Paradox.
Remember last time you heard someone rave about how great their organisation is at gender equality? Turns out that when the evidence is analysed, they're probably not.
For example, your organisations may have employed a Gender Equality Officer. So far so good. But look closer. Is the position well resourced or is it merely a box-ticking exercise? She (and it nearly always is a woman) may not have much of a budget and probably works flexible hours with limited resources and lack of management support. (She's probably also expected to organise the International Women's Day breakfast and other tokenistic tasks such as sourcing a few 'ethnic-looking' stock photos for the annual report).
The irony is that while employers may think they deserve praise for their Gender Equality Plan the reality is there is rarely an associated action plan that makes management accountable for delivery.
There's a level of complacency that 'the job's sorted' which leads to an action gap between the rhetoric and the behaviour. That is the paradox.
This Action Gap has been highlighted by WGEA as a serious issue in Australian workplaces. In November 2018 they reported that more than half of employers (58.4%) don't even bother to scrutinise the basic data (such as pay data) for gender pay gaps. And of the 70% of employers who say they have a policy or strategy to support gender equality, most of them didn't back the plans up with action. For instance, only 30% of employers with plans, made managers accountable for delivery with relevant KPIs. And of those employers that had conducted a pay gap analysis, only around 18% actually reported the results upwards to their Board for action. Even when gaps were identified, only a bit over a half of employers took any action to address the gaps identified (58%).
It's a lot of talk without real action and its time it was challenged.
We've stalled
Here in Australia, WGEA reports women still face considerable barriers in the workplace and that 'we still have a long way to go'. After five years of data, the trends show 'virtually no movement in gender segregation across Australian industries and little improvement in either access to paid parental leave or the representation of women at CEO level or on boards.
This comes on top of the 2017 WEF Global Gender Gap Report estimates that it will be another 217 years before we achieve gender parity. ARGHHHH!
Anyone else yelling with me? Or are you still asking, 'Why does it matter'? If you need to ask why it is worth getting cross about this lack of action, I suggest you check out WGEA's updated guide on the business case for gender equality that demonstrates the benefits to people, workforces and our country. Equality is not only the right thing to pursue, but it also makes good economic sense.
Next time you hear someone from HR boasting about their 'fantastic Gender Equality program' dig deeper. Ask about the data they collect that demonstrates if it's actually making any difference.
If you are interested in practical actions you can take to address the insidious barrier of merit, check out Avoiding the merit trap, a report by Chief Executive Women and Male Champions of Change.
And while we are at it, let's ban the word MERIT, which Catherine Fox jokingly said stands for
M.E.R.I.T = Mates Elevated Regardless of Intellect or Talent
Let's talk about suitability, capability and potential for exceptional performance. Let's challenge the paradoxes and myths and reap the benefits of a fair and equitable workplace for women, men and our country. It's time for the talk to reflect the walk and everyone to be given a fair go.
Ruth McGowan OAM is a gender equity advocate and champion for women in local government through her work as a consultant and coach.
"Our organisation is seeking a different leadership style going forward". "The Board wishes to test the CEO market and see what's out there". "The Managing Director has decided to retire."
Sound familiar? From the leadership of this country to your local council, lately, it seems a lot of bosses are getting the flick.
Last month, Prime Minister Malcolm Turnbull was rolled by his party colleagues (without much explanation). Then there was the termination of the contract of ABC Managing Director Michelle Guthrie by the ABC Board (for her 'leadership style'). And now, Elon Musk has been forced to step aside as Tesla chair (because of a legal settlement).
Add to this the high level of CEO churn which has hit more than 50% of Victorian councils and it seems that 'giving the boss the boot' is becoming increasingly common.
If you find yourself in the position of needing to 'move the CEO on' would you know what to do? Or, how would you respond if your CEO drops a bombshell that they are leaving and hands you their resignation? Do you have a plan?
Most Councillors and board members at some stage of their term need to contemplate a change in the CEO. If this happens to you, get the next steps right. Otherwise, risk reputational damage to the organisation, impact staff morale and incur excessive legal costs or a media backlash.
Should you sack the boss?
Showing your CEO the exit door is not a decision to be taken lightly. On one hand, the costs to the organisation are significant. Not to mention the personal costs to your (soon-to-be-former) CEO.
Replacing a CEO is time-consuming, expensive, and potentially disruptive – the implementation of board decisions can be left in limbo, staff morale can plummet and there is always the risk that the new CEO will not perform any better. Before rushing to dismiss the CEO, the board must balance the costs of replacement against the potential benefits. Better Boards
On the other hand, if you have been elected to a local council (or appointed to a board), you have an obligation to recruit and manage the best talent possible to lead your organisation.
Sometimes it just doesn't work out. The CEO may have a different focus for the direction of the organisation that is incompatible with the council or board's vision. Alternatively, if you have lost faith in the CEO's leadership or if they are under-performing, you have a duty to move them on. Especially if they have acted illegally or unprofessionally.
Do it right
If you're contemplating sacking the CEO, here are some points to consider before putting the boot in.
Plan the transition
Before the firing the CEO put these three plans in place; the CEO performance plan, a communications plan and a succession plan.
The CEO performance plan is the main tool to assess whether your CEO is meeting expectations.
Once the decision has been made, the board/council should develop a communication strategy around the announcement which will be made by the Chair/Mayor.
Then, ideally, the board or council will implement a succession process for either the retiring CEO to gradually transition out of the organisation or they will appoint an executive manager to step into the acting role during the recruitment process for a new CEO.
Also, consider the timing of the decision. Ideally not before or just after local government elections when stability in leadership should be a priority.
Utilise the Performance Plan
The CEO Performance Plan is the evidence base which ideally informs the decision to end the CEO relationship with the organisation. Managed well, this Plan will illustrate the trends that identify problems and help to justify subsequent action to terminate a contract. For example, feedback could show a surge in staff turnover, scathing feedback from stakeholders or plummeting staff and community satisfaction results.
If the CEO is under-performing or failing to meet board/council expectations, the case should be clear and mutually agreed; the CEO needs to move on. Don't leave it too late.
"Academic research shows boards err on the side of taking too long to change CEOs. In some cases, underperforming CEOs remain at companies for years before change is made and only leave after a crisis," AICD
If the CEO is planning to retire, or maybe has career ambitions elsewhere, the performance planning process can facilitate frank discussions about his/her intentions to leave. The exit can then be managed in a way that minimises disruption for the organisation.
Manage the message
A communication plan is imperative to manage the messaging around the reasons why the CEO was 'let go'. Implement the plan with advice from communication specialists and legal and ideally, input from the ex-CEO so that his/her dignity and reputation can remain intact.
It is important to clearly explain why a CEO has been fired and to be as honest as possible in the circumstances.
The message should then be delivered with authority by the Mayor (or Chair of the board).
If you are stuck, here are some well-used phrases:
We are seeking a change in direction for organisation leadership
We've decided we needed to test the market and see what's out there
We will not be renewing her contract as we seek a change in leadership style
He's resigned for family (or personal) reasons
He's accepted employment elsewhere for his career development
The CEO has tendered her resignation to explore other employment opportunities
He has decided it is time for him to retire
Follow the rules
Before you fire a CEO, seek legal advice and ensure you follow applicable employment law as well as the specific clauses in the CEO contract. Check the fine print!
Ideally, have the severance package approved and ready to go. It will be a vital part of that difficult conversation the Mayor (or Chair) will need to have with the CEO to let him/her know that time is up.
Be fair in the redundancy package but avoid the legal implications of paying out too much (a mistake made by the City of Ararat Council and investigated in a state government commission of inquiry in 2017.)
Have a strategy for what next
Following the announcement, the Councillors (or board) now need to consider what's next? At this point, the continuity of organisational operations is the main consideration.
It's now time to pay close attention to addressing the disruptions that will inevitably occur with the changes following the termination of a CEO's contract.
As people adjust to the change, this time can also be an opportunity to signal a refocus of the organisation.
It's also important the Councillors (or Board members) use this time to have frank discussions and reflect on what has been learnt from the experience. For instance; is there a need to refine the CEO position description? How well were expectations communicated to the CEO through the performance plan process? How can support and feedback to the CEO be improved in the future?
You will get through this
The various stages of the grief cycle predict acceptance will eventually follow on from the initial shock and anger that may surround the news of the firing of a CEO (or the departure of one who's been there forever).
If you find yourself in the position of having to fire the boss, you will get through the next stage with care and planning.
Ruth McGowan OAM is a consultant, coach and trainer to local government. She supports Councillors as an independent, expert adviser in the recruitment and performance management of their CEO as well as the departure. As a former Mayor, Councillor and a member of a number of boards she has first-hand experience of having to 'move-on' the CEO. Follow Ruth on LinkedIn
It's turbulent times in Australian politics. Many of us are shaking our heads at the games recently played out in the tumultuous environment of our federal parliament.
But, spare a thought for the women involved. MPs Julie Bishop, Julia Banks, Emma Hauser and Sarah Hansen-Young are household names after recent events in federal parliament. But I bet these women would rather be known for their political leadership and public service contribution rather than examples of how gender can define political debate.
Increasingly, it seems these women may have sacrificed a lot in their efforts to represent their community.
A time of anguish
I remember the first time I saw the famous French sculpture of The Burghers of Calais by Auguste Rodin. Even though it was decades ago, the art continues to inspire me. Beautifully rendered in bronze, the sculpture captures the agonising surrender of six community leaders (Councillors), who in 14th Century France volunteered their lives in exchange for a peace deal. The victorious English King who had long waged war on their town wanted their heads. In Calais, France, the Burghers are in a group, their faces etched in agony, defeat and grief. They seem to be walking towards their death, nooses around their necks and the keys to the city in their hands.
The faces of those brave Burghers came back to me this week. This time, reflected in the anguished expressions of four, 21st Century, female politicians.
Through various media reports, I witnessed the chilled resignation on the face of Deputy Leader Julie Bishop, realising she had missed out on the top job despite 20 years of competent service. Federal MP Emma Hauser in near tears, defending her decision to step down in the face of hurtful, personal attacks which she described as untrue and a form of torture. Federal MP Julia Banks calling out 'bullying and intimidation' in her party which prompted her to quit at the next election after only one term. These came only weeks after Senator Sarah Hanson-Young instigated a defamation case against a male politician for his remarks to her which she says were 'slut-shaming' and caused her 'considerable harm'.
Female leaders who have sacrificed themselves by stepping forward to represent those of us who desire an inclusive, fairer democracy.
Women are turning-off
I'm into politics. I support women to run for public office. When people ask me 'why on earth would a clever, competent woman possibly consider running for public office when this goes on?' I know it's a good question.
Currently, women make up one-third of our State and Federal parliaments yet female representation has been slipping back in recent years. In terms of political empowerment of women, Australia used to rank 38th in the world eight years ago, now we are 48th.
We can't afford for this to decline and for women to turn-off politics. For the sake of our country, our councils, our legislatures, we need women to be at the table; sharing the power and contributing to good decision-making for all of us. We can't give up.
"It's not good enough to be heard. Women must be at the decision-making table" Jacinda Ardern
We need female politicians
With greater representation from female politicians, democracy becomes more effective because we get to hear from 'the other 50 per cent'. As a result, parliaments tend to be more inclusive and responsive.
Madeleine Albright said that women in power "can be counted on to raise issues that others overlook, to support ideas that others oppose, and to seek an end to abuses that others accept."
Not only do women contribute different views, studies also show that women politicians engage more with constituents and are better lawmakers than men. American research into the legislative impact of women in politics found that:
"As more women are elected to office, there is a corollary increase in policy making that emphasizes quality of life and reflects the priorities of families, women, and ethnic and racial minorities".
The National Democratic Institute reports that when comparing male politicians to female politicians, from all parties, women tend to be more likely to:
work across party lines
be highly responsive to constituent concerns
help secure lasting peace
encourage citizen confidence in democracy through their own participation, and
prioritize health, education, and other key development indicators.
Another analysis suggests that parties that struggle to get women into parliament also find it harder to get women to vote for them. In short, a party with a 'woman problem' and a 'boys-club' culture may find that it has a problem with women voters. The results of the next Federal election may demonstrate this.
Five reasons for a woman to run
Next time someone asks 'why would a woman run for politics?' here are my top reasons why I would encourage a woman to definitely consider politics:
Successful democracies reflect the views of their citizens. Australia is a fair country. When women step up, we get to hear from the 'other 50%' of us.
As a politician a woman has power. She can get stuff done. Why let the fellas have it all? Get to the table and have a say.
There's no point in complaining about the current situation if you are not prepared to be part of the solution. As the slogan goes 'Don't get mad, get elected'.
'Be the change you want to see'. Become a role model for other women (and to those young girls who dream of being Prime Minister one day)
Hillary Clinton said, 'Politics is the art of making what appears to be impossible, possible'. As an elected representative you have the enormous privilege of making a positive a difference for your community, state or country. Grab it.
It's time to run
Fortunately, those brave Burghers of Calais met a happy ending. According to Wikipedia, they were saved from their execution by a woman. The English queen persuaded her husband the king, to show mercy as their deaths would be a bad omen for her unborn child.
In answer to that question: A diverse democracy thrives on the views of female politicians. Our parties need women candidates in order to win. We need female lawmakers for fairer decisions.
The data shows that our politics are improved with more women politicians. Let's not see recent events as an omen for the future of inclusive politics. We can choose optimism over despair. It's time to support women to stand for office or vote for them (if we like their policies). Let's work together for more #WomenInPolitics.
Ruth McGowan OAM is a past Mayor, community activist, councillor-coach and consultant to local government. She is a champion for more women in local government and delivers training on political campaigning. Follow her on twitter @hula_grl (Photos Wikipedia commons)
Right now, if you're a Chief Executive Officer in charge of a Victorian council, I reckon you would be hanging on pretty tightly to your seat.
That's because the last two years have seen an enormous change in the local government sector with 'CEO churn' at an all-time high.
Thirty-Three. That's the number of CEO roles that have been up for grabs across the Victorian Local Government sector in the past 20 months; a massive 42% in 2017 & 2018. And you can bet there will be a few more CEO roles up for grabs by the end of the year.
From tiny Buloke shire in the north-west (pop 6300) to the enormous City of Casey on the edge of Melbourne (approx. 300,000 people) both have recently appointed new CEOs.
It's the same all across Victoria. From Moyne shire in the south-west to East Gippsland it feels like every second council has or is looking for, a new CEO.
Why the movement?
Given that there are only 79 councils in Victoria local government, it's not considered unusual to have up to ten CEO roles advertised in any one year. However, recently, many of the 'more-senior' CEOs have retired and are enjoying a well-deserved break from what can be a full on (yet rewarding) job.
Ambitious, younger CEOs have moved to larger councils to advance their careers. Others simply haven't had their contract renewed by Councillors or have been unceremoniously 'moved on' after failing to satisfy the elected representatives.
Perhaps the current surge in appointments has to do with the election cycle.
Under the Local Government Act, Councillors have only one employee to hire and manage -their CEO. Previous council elections (October 2016) saw around a 50 % turnover of Councillors. With a new bunch of elected representatives, sometimes Councillors don't necessarily see eye-to-eye with the direction of a previous council. Fairly or unfairly, some may attribute past council action (or inaction) to the current CEO. As a result, sometimes Councillors will seek a change in direction by searching for a new CEO.
At other times, a CEO might see 'the writing on the wall' and choose to resign in their own time, rather than being 'pushed' by a new council. Sometimes a CEO may choose to leave in the middle of the Councillor term, enabling Councillors sufficient time to recruit a new CEO and settle him/her in prior to the next election (October 2020).
Does it matter?
What are the implications of this level of 'churn' in the sector and does it really matter? Perhaps change is good for Councillors who want to avoid complacency, and the risk of a CEO becoming complacent, or one who stops listening and delivering results.
How long should a CEO stay? A Harvard Business Review article on this topic suggests seven years, plus or minus two as 'a reasonable number: seven years is probably the period of maximum effectiveness for most people in what can be a very stressful job'[i]. They suggest there are three phases to a CEO job which evolves from the Entry stage to Consolidation and then Decline.
Ideally, a CEO will realise it is time to move on when they are "at that sweet spot of being at the peak of their performance, just before the decline".
Councillors need to skill-up
The other impact of all this CEO recruitment activity is that many Councillors who have never employed a CEO before, are suddenly finding themselves having to build their knowledge and skills around the process of executive recruitment, placement and performance management.
The fact is, that Councillors come from all walks of life and few have experience in hiring staff at the executive level.
Many simply don't have the skills to employ staff at the level and salary of a contemporary Council CEO. Typically a council will spend approximately $30-60,000 on the CEO recruitment process. It can involve hundreds of hours of Councillors' time as they engage a recruitment agency, advertise widely, select and interview candidates and finally manage the placement of the preferred candidate
At times, this means Councillors may put blind trust in the executive search agency and take a 'hands-off' approach when they really could be paying more attention to the whole process for their 'one employee'.
It is important for Councillors to successfully manage the recruitment of a new CEO and get it right the first time. They certainly don't want to waste ratepayers' funds by having to go back to the beginning because of a 'dud' appointment.
Independent advice is important
Many Councillors are recognising the value of independent support to guide them through the CEO recruitment process.
Increasingly, as part of my consultancy services, I am being approached by Councillors who are seeking assistance from an independent expert who has no conflict of interest in CEO placement and can, therefore, advise Councillors on what they need to know, manage and avoid. They see this as an important investment in due diligence.
The importance of independent support in CEO employment has also been recognised by the Victorian State Government who have proposed a new Local Government Bill (currently before Parliament) to deliver greater transparency in CEO employment. The Act requires Councils to develop and adopt a CEO Employment and Remuneration policy and to obtain independent professional advice in relation to the matters dealt with the CEO employment.
There is an unprecedented level of CEO churn in Victorian councils at the moment. With all this change it is heartening to see many Councillors seeking independent advice and support with the recruitment process to help them employ an outstanding candidate for the council team, officers and the municipality. Please get in touch if I can assist.
Ruth McGowan OAM is a consultant to local government and supports Councillors as an independent adviser in the recruitment of their CEO. She is a former Mayor, Councillor and has been on a number of boards where she has been involved in CEO recruitment.