"The apparel oft proclaims the man."
Written over 400 years ago, these lines from Shakespeare's Hamlet, about appearance and ambitions, are still pertinent for men and women aspiring to a higher role either in public office or the workplace.
How you look undeniably matters. Candidates running for election to either local, state or federal office must realise that their 'dress code' provides a subtle message to potential voters in a culture where 'the clothes make the man' (and woman!). Idealistic political candidates may think that their message is the main thing and eschew paying attention to appearance in order to avoid being seen as 'vain'. However, the reality is that the public notice details about a candidate's appearance long before a candidate even starts to voice the 'vote-for-me' pitch..
 Assumptions and judgments about appearance influence how citizens vote. Ignore this reality and a campaign is lost before it even begins.
 Why it matters
Personally, I wish it didn't matter what people wore on the campaign trail. The message should matter more than looks, right? However, research into human nature shows it does. Studies clearly show that people make assumptions about others, based on what a speaker is wearing. Researchers have found that
 "your appearance strongly influences other people's perception of your financial success, authority, trustworthiness, intelligence, and suitability for hire or promotion" Business Insider,
The upshot is, that if what you're wearing on the campaign trail, overshadows your message, you run the risk that people may take one look at you and decide not to vote for you. Appearance must be a priority in order to send the right message to voters.
Other studies have found that clothes don't just influence others' perceptions of us, they can also change the way we think by improving our abstract cognitive processing skills.
Dress professionally and you not only look better, you also think smarter.   
How clothes proclaim the woman too
While men may be mocked for their sartorial choices, unfortunately, it's still women that attract greater scrutiny for their appearance. A woman in politics is still unusual. As a result, the press and voters will notice her clothes, shoes, hair and makeup.
Australia has some notorious examples of fascination about the appearance of women politicians such as discussion on Senator Michaelia Cash's 'power coif' hairdo, former senator Natasha Stott Despoja Dr Marten shoes, past Victorian Premier Joan Kirner's 'spotty dress', or the cut of former Prime Minister Julia Gillard's jacket.
But there's often a double standard in place
As a woman Mayor recently said to me "I have to dress-up and do my hair and makeup every day for not only council events but even to just do the grocery shopping. I can't risk being caught in my jeans or gym gear, because then I am seen as 'sloppy and dressing down'. But, on the other hand, the male councillors; they can show up in shorts and a t-shirt and people say 'isn't he great, he's one of us'. Women are held to a higher standard of grooming"
There's no doubt that people expect a woman running for office, or an elected politician to look good. For women, this means working on their appearance virtually all the time. When Hillary Clinton was in Australia recently, she said she had calculated that she had spent about six hundred hours on the campaign trail on grooming. That's equivalent to 26 days!
What to wear
For a female politician this often equates to wearing  'power-suits' such as those favoured by female politicians on the world stage; think Angela Merkel's blazer, Theresa May's skirt-suit and Hillary Clinton's pantsuit. These women leaders project that they can 'play the game' in the male dominated world of politics.
Women want to be seen as attractive to voters without being judged as 'too sexy' 'fussy' or 'soft'. That's why the 'professional business-woman' style works.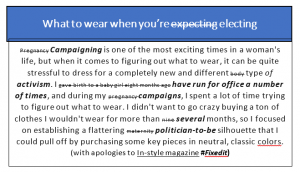 Male candidates are advised to avoid the 'scruffy' look if they want to be taken seriously. Again, although there may be eight dress styles for men in politics,  a professional look is recommended with a simple and well fitted suit in muted colours. Or, take the advice of Barack Obama who basically had one look and stuck to it saying "You'll see I wear only grey or blue suits – I'm trying to pare down decisions. I don't want to make decisions about what I'm eating or wearing. Because I have too many other decisions to make."
Keep it real
If fashion style is not your thing, but you need to look good on the campaign trail, you can always seek some professional stylist advice. The big department stores have experts who can guide you through fashion choices from clothes, suits to accessories.
Look good, but in order to be authentic, you still need to feel comfortable and about what you are wearing.
That might mean comfortable shoes when door knocking and canvassing voters for support. It means not faking it. Beware of the 'Bourke street bushie' image. For example, if you're out on the campaign trail in the 'bush' and you decide to wear an Akubra hat, a checked shirt, moleskins and RM Williams boots for the first time in your life, don't do it. The voters can tell when you're faking it.
In summary, as a candidate, you need to dress professionally in order to look the part of a politician-to-be while remaining genuine about your message for change. I hope this helps you to get elected!
Ruth McGowan OAM is a consultant, trainer and coach in local government where she also advocates for gender equality and more women in local government. Ruth is currently writing a book to assist candidates to get elected to public office